State-Sanctioned Spaces: The Art and Architecture of Two Philippine Centers
Pieter Hansen (he/him/his)
Recent graduates from a bachelor's degree in Political Science, Grinnell College (USA)
Nate Crail (he/him/his)
Recent graduates from a bachelor's degree in Anthropology, Grinnell College (USA)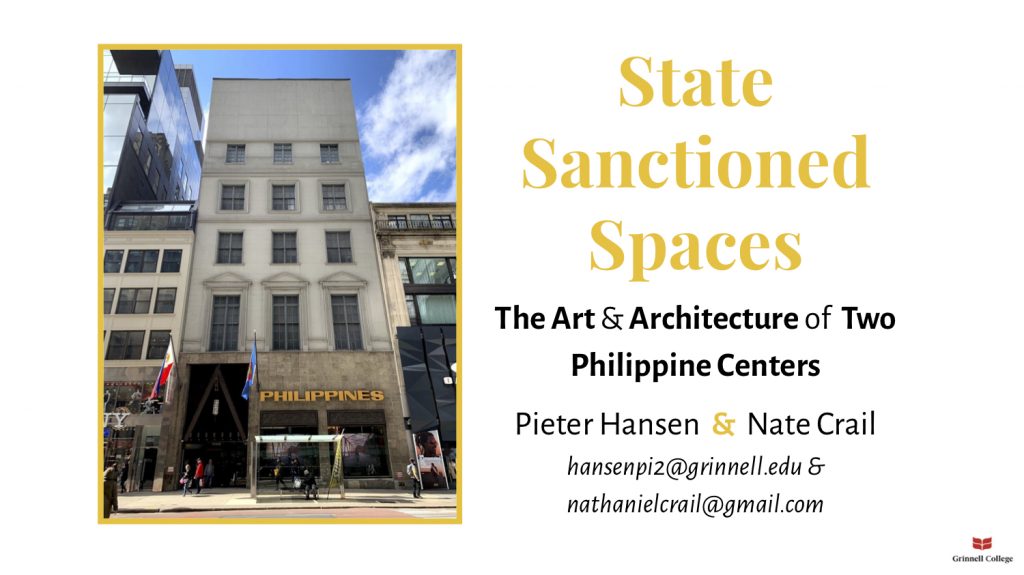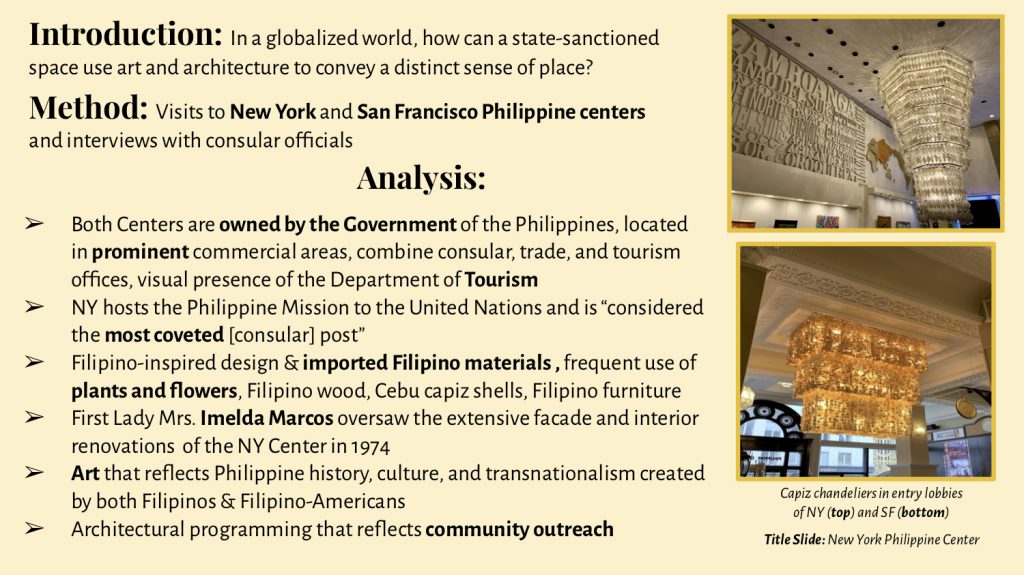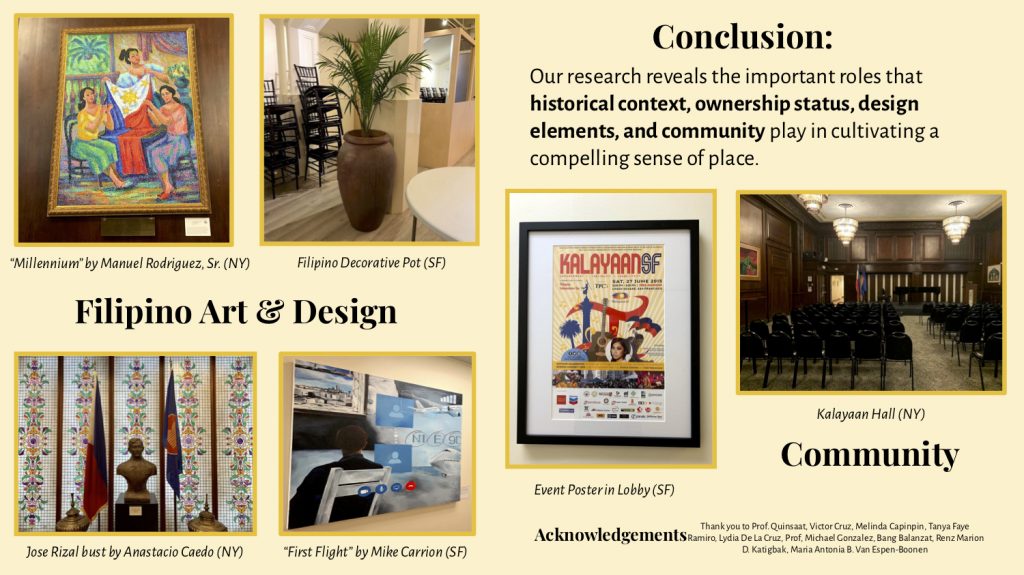 Abstract: How can a building create a distinct sense of place? How can a government office, thousands of kilometers away from Manila, transport a visitor back to the Philippines? Conducted during spring 2019, this project attempts to answer these questions. We focus on the Philippine centers in San Francisco and New York City as our case studies, because they are publicly-accessible, wholly-owned by the government of the Philippines, and intended to promote Philippine arts and culture, expand tourism and investment, and enhance perceptions of the Philippines. For each center, we examined how the art and architecture of the space reflected Philippine national identity and transnationalism by examining primary sources, analyzing the art and architecture, and conducting interviews with consular and center representatives. Our findings reveal the important role that historical context, ownership status, design, and community play in cultivating a compelling sense of place. They also suggest that for an expression of place to be genuine, Consular Officials must have the freedom and resources to invest in their space and community. For other architectures of place (such as airports and embassies), the stories of the New York and San Francisco Philippine Centers indicate that meaningful cultivations of place are possible if attention is paid to smaller details. Based on this research, it is also apparent that national identity plays a significant role in how individuals perceive and interact with state-sanctioned spaces. Further research should analyze these phenomena in the context of different countries, particularly how state-sanctioned spaces with less government support and financial resources attempt to cultivate a sense of place.
Presenters' biosketch: Pieter Hansen and Nate Crail received their Bachelor of Arts degrees in May 2019 from Grinnell College. Pieter majored in Political Science with a concentration in Global Development Studies. Nate majored in Anthropology with a concentration in Global Development Studies. In Spring 2019, spurred by their academic interest in the Philippines and Nate's Filipino heritage, Pieter and Nate began a joint study analyzing the art and architecture of the New York and San Francisco Philippine Centers. Currently, Pieter is an Admission Counselor at Grinnell College and Nate is an AmeriCorps VISTA Member at the Santa Fe County community development office.
"Dance, Music, and Multimedia: A Collaboration between the University of British Columbia (UBC) Laptop Orchestra and University of the Philippines Music Students
Desiree Peralejo
Ph.D. candidate in Musicology, University of the Philippines, College of Music (Philippines)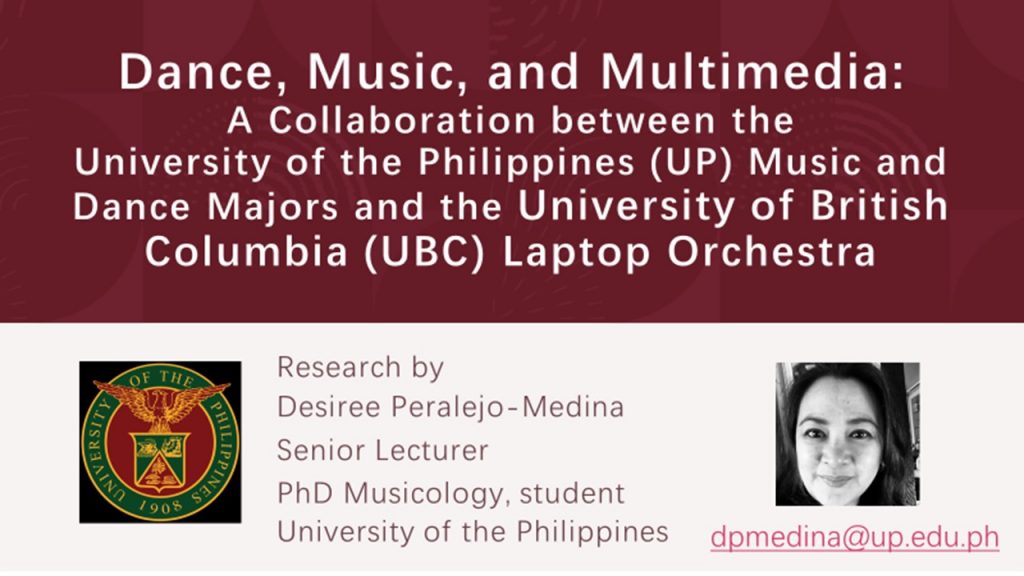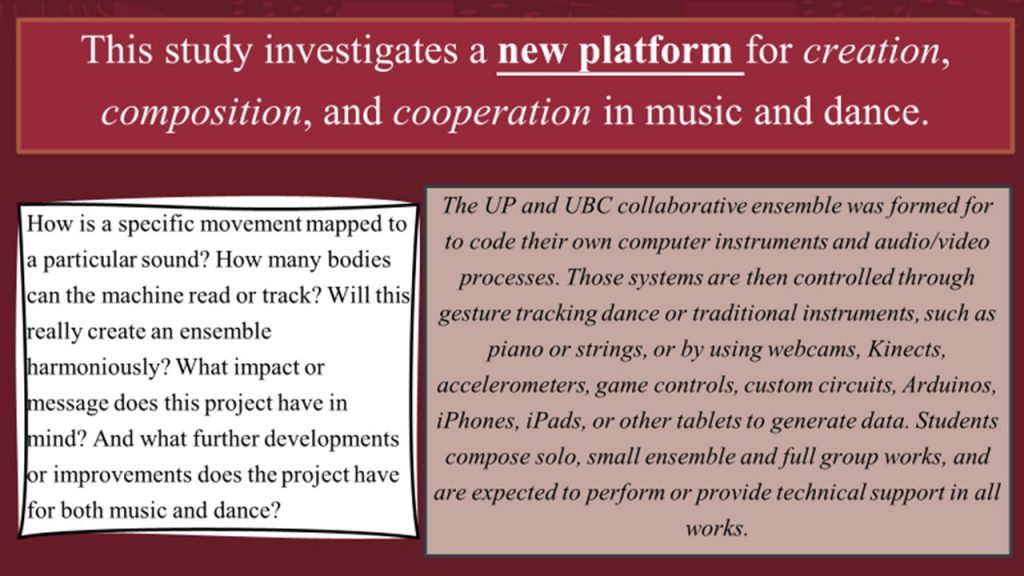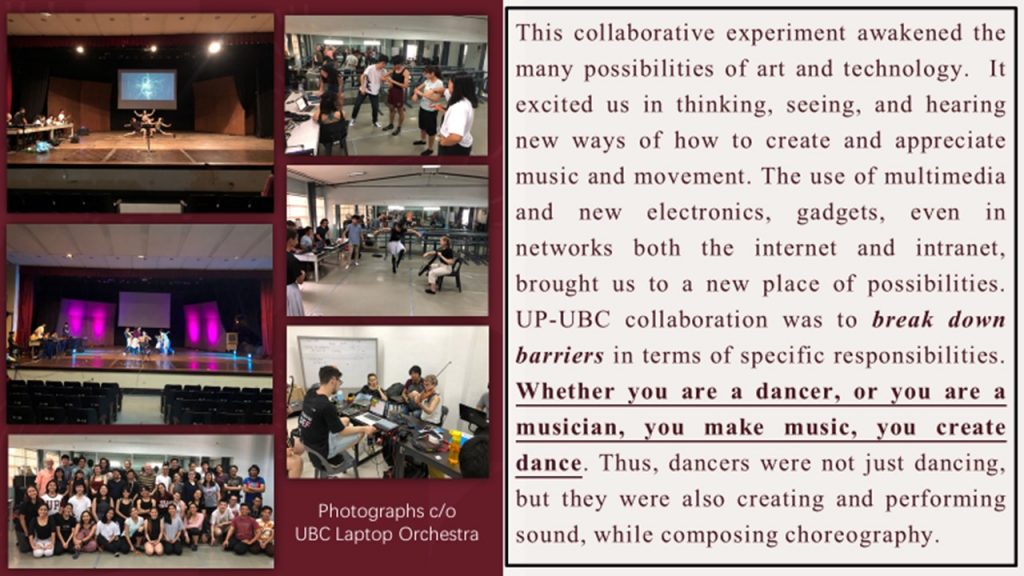 Abstract: Music technology and dance are further developed when countries work together to produce exploratory projects. In February 2020, right before the Corona Virus Disease (COVID-19) pandemic enforced lock downs on countries, The University of British Columbia (UBC) laptop orchestra (also called Sonic UBC Sounds and Sensors – SUBCLASS) took a huge leap geographically and culturally to be immersed with and team up with the University of the Philippines (UP) College of Music composition and dance students. This team-up created a new platform for creation, composition, and cooperation that will be forever marked in the history of the Canada-Philippines art history. With this recent collaborative experiment, we are awakened by the many possibilities of art and technology.  It excites us in thinking, seeing, and hearing new ways of how to create and appreciate music and movement. The use of multimedia and new electronics, gadgets, even in networks both the internet and intranet, brings us to a new place of possibilities. The UBC-UP project as an echo of our present situation toward creating art reflects life. And we are in this world where we are fed by massive amount of knowledge, responsibility, and technology. Everyone just needs to get a hold of everything, all at once, just like the goal of this recent project. Dancers and musicians crowd in front of the tracking machine to be heard. People crowd to the idea of being part of new technology, without stepping back and observing what this type of technology is capable of, its effects, its contribution to the world. I believe that the basic foundations alongside our human need to survive is to collaborate or work with people, express, and create our Art.
Presenter's biosketch: Desiree Peralejo is a Senior Lecturer at the University of the Philippines, College of Music Dance program. She earned her Master of Arts in Art History and her Diploma in Creative Performing Musical Arts in Dance at the University of the Philippines and her undergraduate degree of Fine Arts Cultural Studies at York University, Canada. Desiree also took the three-year intensive, Teacher Training Program at Canada's National Ballet School and graduated in 2006. She acquired her teaching certifications with the Royal Academy of Dance (RTS), AISTD (National), and Cecchetti Ballet Society of Canada (Associate) through NBS. Since she has moved to the Philippines, Desiree has upgraded her teaching status with Cecchetti Ballet Australia and obtained both her Associate Diploma and Licentiate. She is currently working on completing her Licentiate Diploma with Cecchetti Ballet Australia, and Fellowship with the Cecchetti Council of America while taking her PhD in Musicology studies at the University of the Philippines. Desiree has presented her papers in local and international organizations.
'we had achieved recognition of our right to exist': An Analysis of Worldbuilding in Hilary Tham's Lane With No Name 
Ngoi Hui Chien (He/Him/His)
Recent graduate from a Master's degree in English Literature, University of Leeds (UK)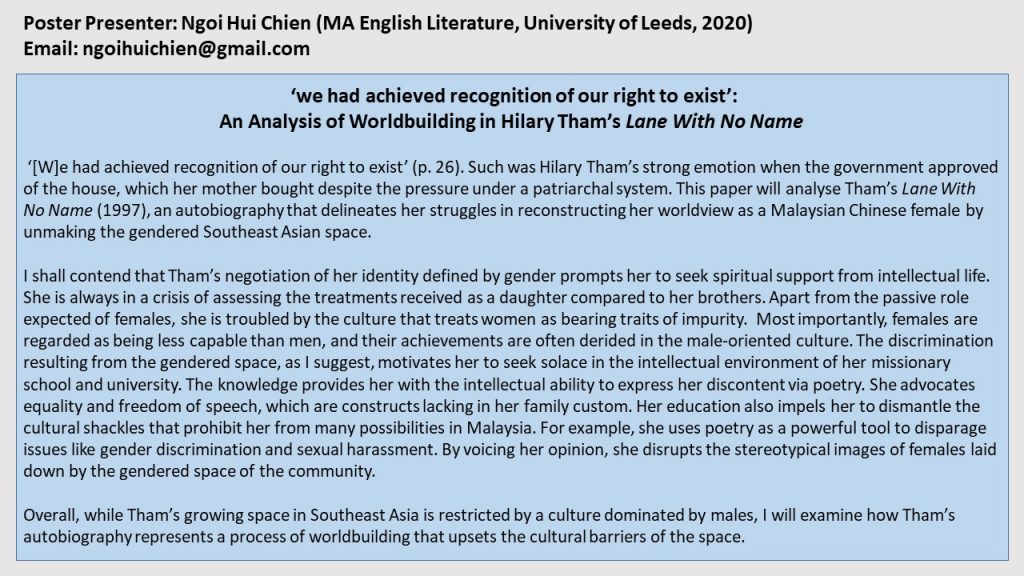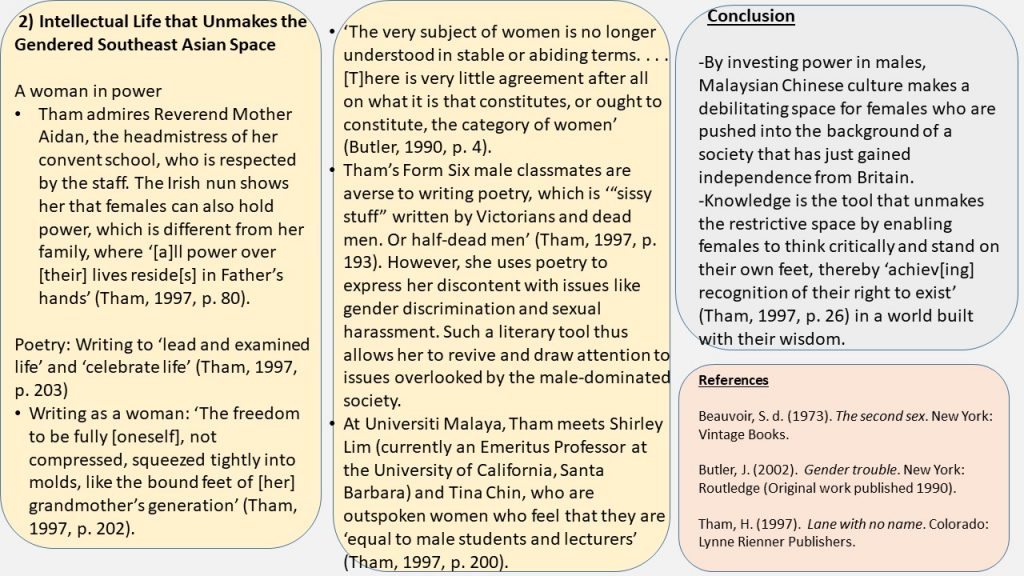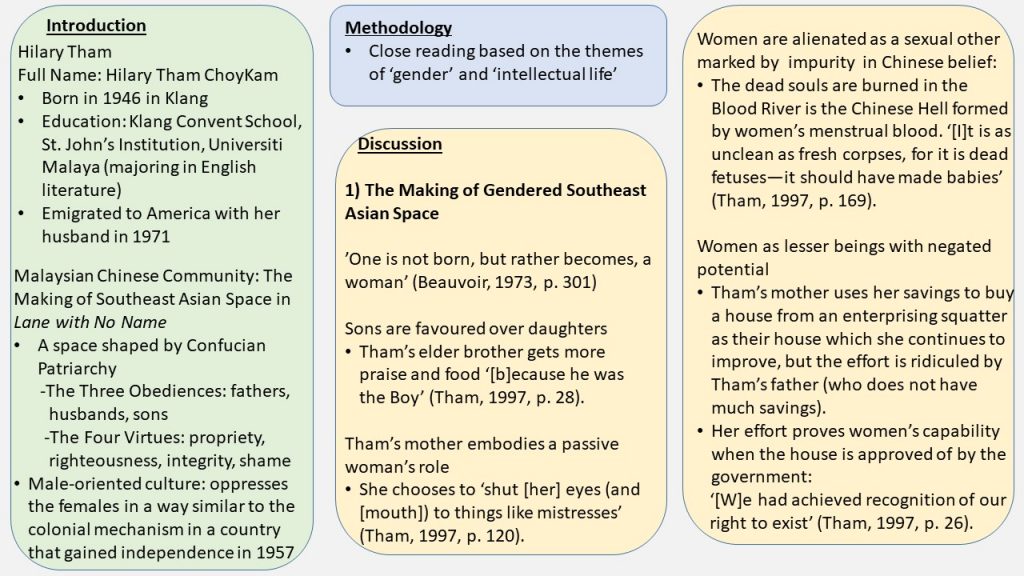 Abstract: '[W]e had achieved recognition of our right to exist' (p. 26). Such was Hilary Tham's strong emotion when the government approved the house, which her mother bought despite the pressure under a patriarchal system. This paper will analyse Tham's Lane With No Name (1997), an autobiography which delineates her struggles in reconstructing her worldview as a Malaysian Chinese female by unmaking her debilitating experiences embodied by the Southeast Asian space.
I shall contend that Tham's negotiation of her identity defined by gender and race prompts her to seek spiritual support from intellectual life. She is always in a crisis of assessing the treatments received as a daughter compared to her brothers. Being a Malaysian Chinese, she struggles to make sense of the divide and dispute among the races. Since the country was a British colony, she is also barred from the privileges enjoyed by the wealthy and powerful British. The various socio-political restrictions of the space, as I suggest, cause her to seek solace in the intellectual environment of her missionary school and university. While the education makes her aware of the principles manipulating the world, it also provides her with the avenue, poetry in particular, to express her discontent.
My next argument is that Tham explores the construction of a new world which she tries to assimilate from her intellectual circle. She advocates equality and freedom of speech, which are constructs lacking in her family custom. The education motivates her to dismantle the cultural shackles that prohibit her from many possibilities in Malaysia. For example, she speaks as a university activist, marries an American, and writes this autobiography, which unconventionally unveils the family's unpleasant stories.
Overall, I will examine how Tham's autobiography represents a process of worldbuilding that upsets the cultural barriers of her growing space.
Presenter's biosketch: Ngoi Hui Chien is a Malaysian who graduated with an MA in English literature from the University of Leeds in 2020. His research interests encompass trauma literature (including war literature), psychoanalysis, philosophy, postcolonialism, and ecocriticism. He is committed to academic literary criticism and creative writing. The ideas in his works are drawn from both anglophone and sinophone literatures.
Pulling the Curtain off the Southeast Asian American Student Experience 
Kathy Vilaysith (she/her/they/them)
MA student in Higher Education Leadership, University of San Diego (USA)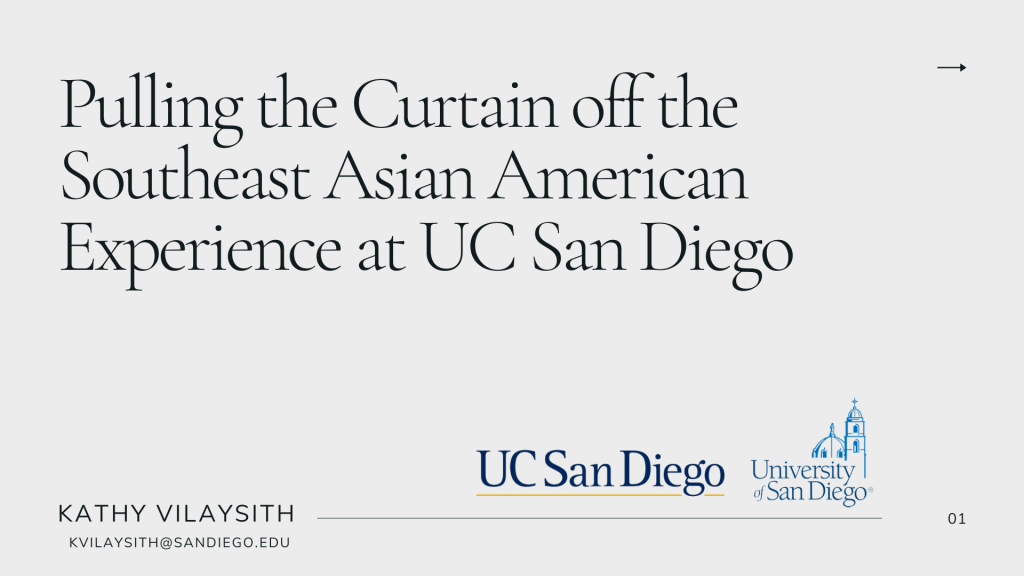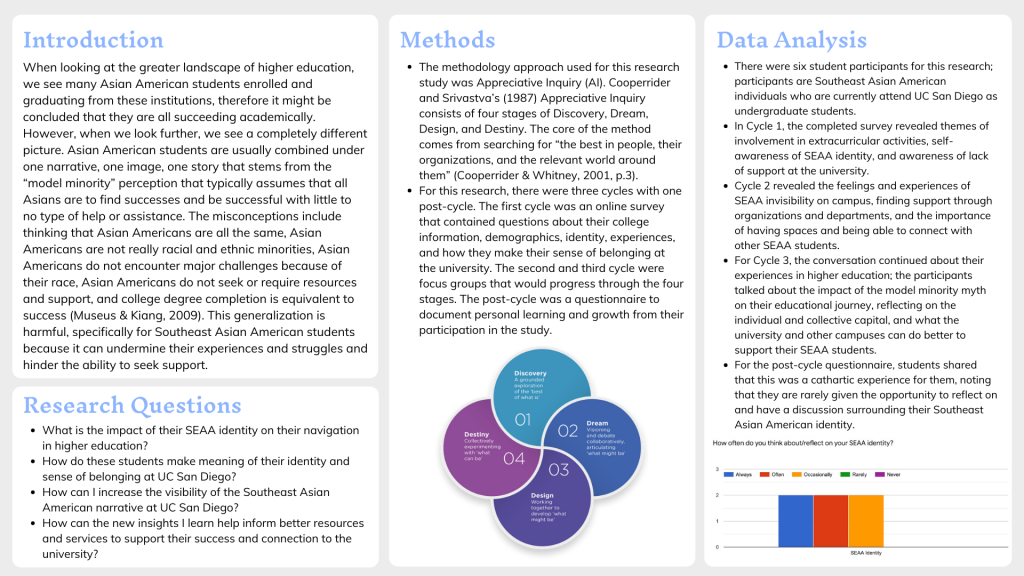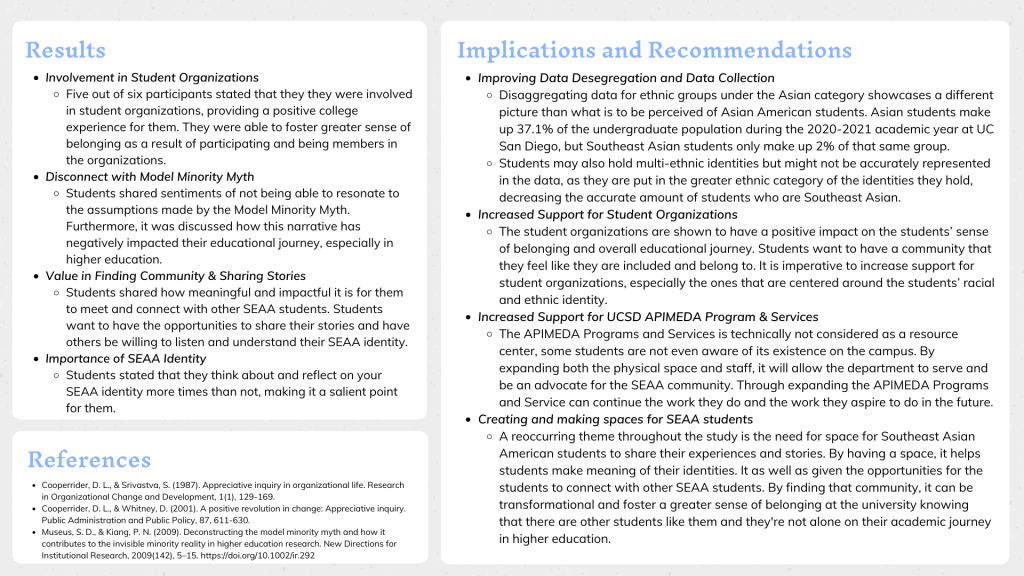 Abstract: The purpose of my research is to explore the experiences of Southeast Asian American (SEAA) students impact their educational journey, specifically examining their sense of belonging and how they navigate institutions of higher education. The central focus will be trying to understand the SEAA experience as opposed to the "model minority" narrative that is typically associated with the Asian American community. The term 'Asian' is an umbrella term that encompasses over 30 ethnic groups and it is typically found that the 'model minority' perception does not resonate with most SEAA students. The model minority narrative assumes that Asian Americans are successful with little to no help or support, resulting in a lack of resources and services, which impacts Southeast Asian American students' experiences in college and their overall sense of belonging. My research questions are how can I increase the visibility of the Southeast Asian American student population at UC San Diego? How can the new insights I learn help inform better resources and services to support their success and sense of belonging at UC San Diego? Throughout this study, students will think about and reflect on their identity, which they might have not been given the chance to before and be in a space that will allow them to be with folks that identify similarly to them. They will be able to share their lived experiences and validate their feelings and wants, providing insights of how to better support them and other SEAA-identified students in higher education. I found that students do not often get the opportunities to reflect on their identities and what that means to them. Students require more support at the institutional level for programming and spaces on campus to contribute to a greater sense of belonging and a positive impact on their academic success.
Presenter's biosketch: Kathy Vilaysith, a first-generation Lao-American, is a graduate student in the Higher Education Leadership program at the University of San Diego (USD). She received her bachelor's in Linguistics with a double minor in Education Studies and Business from UC San Diego. During her time at UCSD, she developed a passion for education equity and social justice, especially working with organizations such as the Asian & Pacific-Islander Student Alliance (APSA) and the Student Promoted Access Center for Education and Service (SPACES). Kathy is committed to serving communities that have been historically marginalized and excluded through educational empowerment, community organizing, and interethnic/racial solidarity work.