Abstract 
Travelers played a significant role at the early age of colonialism. Their "discoveries" were not only driven by intellectual curiosity, but also by the opportunities for trade, conquest, and colonization. Nowadays, voices are raised which point out the importance to deconstruct narratives based on the writings of western voyages. However, the correlation of colonialism and eastern travelers such as Zheng He are frequently neglected in this context.
This study strives to evaluate the perception of travelers as precursors of colonialism and imperialism as an exclusively western phenomenon. It attempts to question the perception on the Ming Dynasty's admiral Zheng He as an envoy of diplomacy around Southeast Asia by analyzing the writing, "The Overall Survey of the Ocean's Shores" (1433), on Java written by the translator of the voyage, Ma Huan.
Thereby, the study discovers that despite Zheng He's portrayal as positive figure in Indonesia and other countries, there are indications that Ma Huan's writing on Java reflect the aggressive expansion politics of the Ming dynasty. There are three main characteristics found by this study which represent those colonialist and imperialist efforts. First, Ma Huan's evaluation of worth on Java, for the Ming and for the Javanese, was exploited to make presents to the leaders and consequently demand tribute. Second, Ma Huan's sinocentrist contextualization of his observation suggest an idea of hierarchy between the Chinese and the Javanese. Finally, the portrayal of Chinese or other foreigners living on Java and Javanese themselves differs significantly in Ma Huan's writing. Foreigners are described in a positive manner whereas Javanese are attributed with condescending qualities.
In summary, those findings suggest that Zheng He's voyages, like western ventures, were not only driven by the curiosity towards Southeast Asia but rather the desire to dominate, exploit and conquer.
Leon Woltermann is a master's student of languages and cultures of Southeast Asia at the University of Hamburg, Germany. He holds a Bachelor in Southeast Asian Studies with a minor in Sinology from the same University. In addition, he completed semesters abroad at the Gadjah Mada University in Yogyakarta, Indonesia and at the German Jordanian University in Amman, Jordan financed by the German Academic Exchange Service (DAAD). His research interests are Islam, Malayness and Chineseness in Indonesia from an anthropological perspective. He can be reached at leon.woltermann@gmx.de.
Abstract
The introduction of rubber into the Malay states had a twofold consequence. Firstly, the mass import of foreign labor from India and China. Secondly, communal politics which plagues Malaysia until today. It is important to note that pre-colonial Malaya were Malay kingdoms which embraced Hinduism and Buddhism. Given the Malay states' strategic location, trade has flourished at least 1700 years ago. In the 1400s, there are also records of official state visits between China and the state of Malacca. The Peranakan Chinese of Malacca and Penang blurred the lines between Chinese and Malay; and Muslim Indian-Malay marriages produced the Jawi Peranakan group. Only during the 19th century, the West brought a narrower definition of race and hierarchical classifications of peoples to quantify and justify their imperial conquests. Since then, the rigid definition of race has further hardened with time as contemporary Malaysia's elite Malay political parties continues to use it to their advantage to preserve their status quo. It is not a coincidence that FELDA or the Federal Land Development Authority was one of the British legacies in Malaysia. Lord Howick revealed on the Guardian in 1981 that it was the main strategy to curb Chinese communism and "buy off" the rural Malays. Malay politicians further accelerated the FELDA apparatus to create an emerging rural middle class through the New Economic Policy (NEP) implemented after the racial riots of 1969. Over 480,000 hectares of state land and forest reserves had been cleared for rubber or palm oil plantation not including the construction of the settlement itself.
Recent Master of Architecture graduate from the Architectural Association (AA), United Kingdom, Cheah Ee Von obtained her Bachelor's degree in architecture from Taylor's University, Malaysia. During her studies at the AA, she was exposed to other disciplines such as decolonization and neoliberalism. She has been actively writing about architecture incorporating these concepts in the local publication scene. Ee Von is currently teaching full-time at UCSI University and will soon embark on PhD researching about housing in Malaysia
Abstract
Indonesia is a country that has been colonized for 350 years by the Dutch and Japanese. The Dutch colonialism against Indonesia greatly influenced the thoughts of its citizens towards Indonesia itself. Indonesians still glorify Western countries as better countries than Eastern countries. In this case, the views about the West and the East that are very closely related to Indonesian citizens are shown by modern literary works written by Indonesians, such as the short story "Dewi" by Seno Gumira Ajid Darma. In this modern literary work, there are many points of stream of consciousness which show that the East is the dark side of the West, such as lifestyle, education, skin color, and so on. This consideration shows that citizens of former colonized countries have very orientalist thoughts, latent orientalism. Latent Orientalism (Edward Said) explains that thoughts that indirectly refer to the West are more powerful than the East. The short story not only shows the latent points of orientalism, but also shows the female side as a subaltern. Gayatri. C. Spivak initiated the theory of the Subaltern to argue that in this world there is always a superior and an inferior side. The work also shows that men in power are regarded as West and inferior women are regarded as East. This is indicated by the Symbolic Annihilation (Gaye Tuchman) points that occur to women in these modern literary works. In this research, qualitative research methods are applied to reach conclusions that clarify the results of the discussion. The results of the analysis that appear in this study are East consideration as the dark side of West, women as the East and Man as West, Symbolic annihilation is the sign of women as subaltern in ex-colonialized country, and the consideration of woman as East and man as West is the sign of latent orientalism and consideration of subaltern.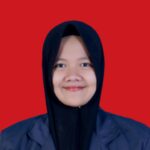 Alisya Rusdianti is master student of Literature program in Gadjah Mada University. She received her bachelor's in Literature and Humanities in State Islamic University Sunan Gunung Djati Bandung. She tends to write about several issues in literary works but mostly focus on post-structuralism issues such as deconstruction, ecriture feminism, and post-colonialism.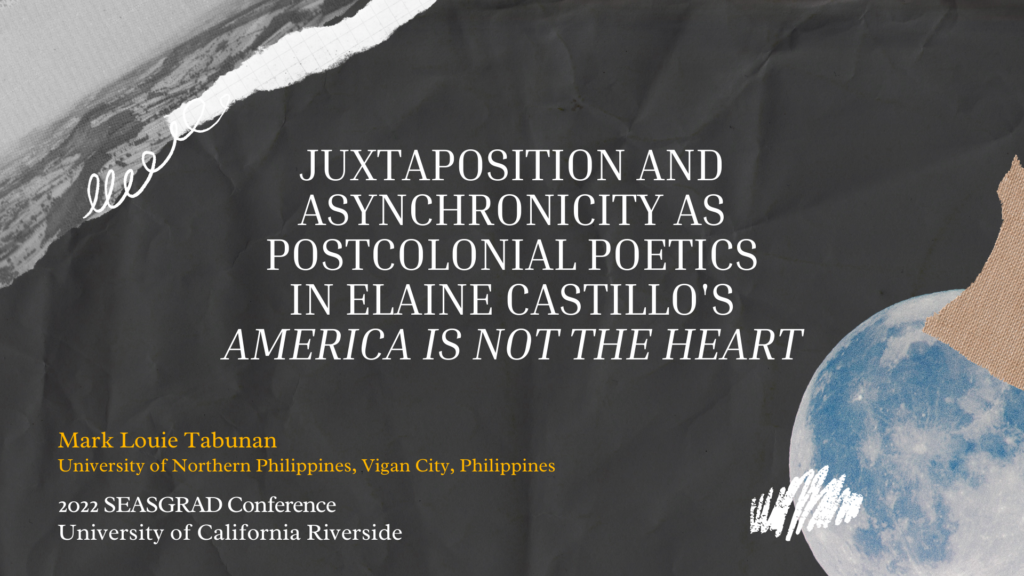 Abstract
Literary studies, with the influence of critical theory inspired by Marxism and the Frankfurt School, have sidestepped concerns on aesthetics and poetics. Using Elleke Boehmer's postcolonial poetics, this study aims to explore juxtaposition and asynchronicity in Elaine Castillo's America Is Not the Heart. It discusses how juxtaposition and asynchronicity as postcolonial poetics interrogate the postcolonial politics in the novel and explains the novel's contribution to enriching Filipinos' counter-memory and in enabling resistance. The poetics of second-person narrator point of view, flashbacks, free indirect discourse, and elliptical narrative are ways through which the text has explored migrants' efforts of forging and linking social relations in the interstitial spaces between homeland and host land. At the same time, the novel goes beyond essentialist contours of migrant experience such as heteronormative nationalism and nostalgia for lost origins. The paper demonstrates not only a critical reckoning with power structures but also renewed attempts and continued struggle, which lead to radical hope.
Mark Louie Tabunan teaches English language and literature courses at the University of Northern Philippines, Vigan City, Ilocos Sur, Philippines and is also a PhD student in comparative literature at the University of the Philippines. His research interests are along literary studies and memory and trauma studies involving Philippine literatures in English and in Ilokano.
Abstract
Myanmar has been under oppressive military rule since 1962. People who challenge the power of the military regime were arrested, imprisoned, and tortured. However, the civil disobedience in Myanmar never fades away. In 1988, many students and general public alike marched on the streets asking to restore democracy in Myanmar. The well-known four eight (8.8.88) revolution was a nation-wide political struggle against oppressive socialist government which ruled the country almost twenty-six years since 1962. During and after the 1988 pro-democracy revolution, many students and activists faced widespread imprisonments due to their resistance against power of the military. As a result, thousands of political activists were imprisoned and faced the long prison sentences between 1988 and 2010. Aftermath of 1988 pro-democracy uprising, the prisons, paradoxically enough, had become the sites of resistance thereby engendering powerresistance nexus in the context of prison politics. How did the military government use the power technique to discipline the political prisoners? How did the political prisoners negotiate the power techniques by employing diverse forms of resistant strategies? Where did power and resistance meet? This study then argues that power and resistance are mutually constitutive reinforcing and undermining each other in the context of political prisoners in Burma. At the same time, the resistant strategies employed by the political prisoners against specific form of power are not independent of each other. They are simultaneously unique, local and context specific. The miscalculated resistant strategies faced the failure and even counterproductively encourage more oppressive measures affecting the wellbeing of political prisoners.
Keywords: political prisoners, disciplinary power, resistance, strategies
Starting from 2009, Sit Maw has been an active student of Burmese politics working in the civil society sector. Encountering with ex-political prisoners in his early days of activism has paved the way for him to further explore the prison politics, politics of resistance and transitional justice in Myanmar. Educated in the United States and Thailand, he extensively interacts with day-to-day sociopolitical issues and current affairs in the public forums as civic educator and young academic in favor of lasting peace, democratic governance, and national reconciliation. After the 2021 military coup in Burma, Sit Maw, as part of the Civil Disobedience Movement, closely worked with Committee Representing Pyidaungsu Hluttaw (CRPH) and National Unity Government of Myanmar to restore democratic transition in Myanmar. Sit Maw holds Bachelor of Arts in Social Science with Summa cum laude from Chiang Mai University.